Suspension
Block Type
Mechanical
Weight
0.5
Size
2x1x1
Explosive
No
Destructible
Yes
Interactive
No
Variations
Piston
Version Introduced
v0.01
The Suspension block's primary use is as a shock absorber, and is useful for bearing heavy weights, absorbing blows from other moving parts, and generally making machines less stiff. It's 2x1 in size, but when bearing enough weight it can compress to 1x1 in size, similar to the Piston, but in reverse. It cannot be directly controlled, although the amount of tension in its spring can be adjusted- the higher the number, the more force it takes for the spring to fully compress and thus the more weight it can bear.
When building vehicles, it is highly advisable to suspend all wheels using this block, as a working suspension greatly decreases stress on the vehicles structure. "Off-road" capabilities of the vehicle will also be improved when driving over scattered debris.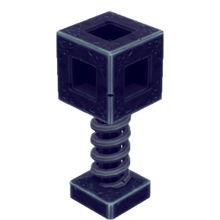 Ad blocker interference detected!
Wikia is a free-to-use site that makes money from advertising. We have a modified experience for viewers using ad blockers

Wikia is not accessible if you've made further modifications. Remove the custom ad blocker rule(s) and the page will load as expected.