Half Pipe
Block Type
Block
Weight
1.0
Explosive
No
Destructible
No
Interactive
No
Version Introduced
v0.03
The Half Pipe is a metal structure that can be used to roll round objects through, such as the Boulder or the Bomb. Being metal, they can withstand heat for a while, making them useful for holding flaming balls, although they will glow red and can even set adjacent wooden pieces ablaze if kept hot for too long.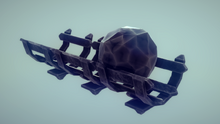 Ad blocker interference detected!
Wikia is a free-to-use site that makes money from advertising. We have a modified experience for viewers using ad blockers

Wikia is not accessible if you've made further modifications. Remove the custom ad blocker rule(s) and the page will load as expected.