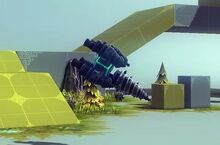 The Cannon Engine is an engine which is created by superpositioning two cannons together (preferably a shrapnel cannon and a regular cannon) and placing a drill (optional) on the front of the machine. It may seem like the Aerial Force Engine, but it is less powerful and has a boost if you fire the cannon (default C).
The cannon engine was discovered by Steam User Hntrofdmnds[1].
Function
Edit
It is a formidable foe in the crowds, but when anything involves precision, all you can do is fire and hope.